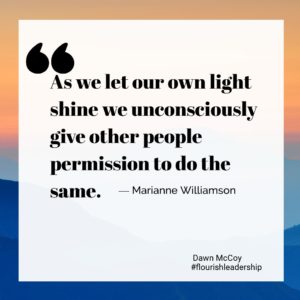 Too often, some leaders need a gentle reminder. Yes, I include myself too. As leaders, we do not realize that we are giving others permission to shine and showcase their talents when the opportunity emerges. This quote by Marianne Williamson really does say it all, right?
But, what does it mean to shine as a leader?
For some, this is showcasing their talent and special skills. For others, it means being able to genuinely be themselves. For instance, it might be a leader who acknowledges forthcomings or areas of challenge and opportunity. Still, yet, there are those who are on a path to self-improvement by letting themselves flourish as leaders. In turn, their vibrancy and enthusiasm for personal development foster and encourage others.
I don't know about you, but that is the type of leader I want to be!