Giving Back, Serving Others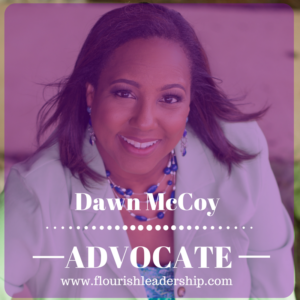 Giving back is a fundamental leadership concept. With my loved ones diagnosed with rare diseases, special needs advocacy has become an integral part of my routine.
At Flourish Leadership Group, periodic in-kind services and support are given to non-profit organizations and their teams through reduced rates for some products and services. Leadership training for the special needs community and a portion of the annual proceeds are allocated to support non-profit organizations.
Rare Diseases
Dawn has engaged within the special needs communities including:
Served as a patient advocate meeting with members of Congress on Capitol Hill by advocating for legislation to ensure safe food preparation for those with food allergies
Testified at the Virginia General Assembly joint budget committees
Appointed to the American Partnership for Eosinophilic Disorders (APFED) Board of Directors
Served as a guest writer, podcast co-host, and blogger and eosinophil-associated and rare diseases
Drafted content and also wrote requests for an annual Virginia proclamation supporting National Eosinophil Awareness Week
Coordinated a regional patient support network and served as a family and practitioner engagement through education forums
Raised awareness at the annual Rare Disease Day at the Virginia State Capitol
Special Needs Programs and Initiatives
Appointed by Governor Terry McAuliffe to the Virginia Birth-Related Neurological Injury Compensation Program in October 2017
Graduated from the Virginia Partners in Policymaking (PIP) Class of 2016
Contributed to the National Organization for Rare Diseases (NORD) Advisory Group for families living with rare diseases, abuse, and domestic violence
Advocated for food allergy state legislation requiring safe restaurant food preparation
Served as PIP Central Virginia Alumni Group Chair, 2015-16
Provided consult on special needs and rare disease perspectives to Points of Access
Recorded a Speak Now for Kids public service announcement advocating for a national repository for special needs families. Click -->   public service announcement 
Keynote Speaker and Award Recipient
Delivered parent perspective remarks at the Children's Medical Nutrition Alliance Annual Gala
Workshop presenter at the National Pacer Center Management Institute
Received the APFED Elizabeth Allen Award Recipient for Community Service
Honored as Children's Hospital of Richmond, at VCU Family Spirit of Advocacy Award Finalist
Rare Patient Advocacy Summit Travel Scholarship Recipient
Nominated for the WEGO Health Award Patient Leader Hero Award
Given the relevance of special needs today, our leaders, policymakers, and practitioners can align themselves with families and patients to reinforce new ways to manage complex health conditions.
| | |
| --- | --- |
| Special Needs Advocacy | Policy Engagement. Patient advocacy has evolved in recent times as a necessity in response to greater consumer engagement coupled with medical research, product development, and regulatory dynamics. The collaborative partnership has emerged among constituencies and practitioners as well as policymakers. It is an unprecedented time to have an impact in the special needs arena. |
| | |
| --- | --- |
| Rare Disease Management | Health Care Management. Now more than ever there are opportunities for those with rare diseases and their families to collaborate with providers and researchers alike to better manage their conditions. It might mean seeking non-traditional data management, enlisting case management services with the community- and health insurance-based providers, and tactfully managing challenging health issues. |
Connecting Families with Disabilities with Resources

Resource Management. 

More now than ever families are seeking opportunities to connect with resources within and beyond the scope of their communities and regional providers. With a global economy and instant exchange of information, patients and their loved ones are seeking more specialized medical treatment options, healthcare technologies,  products, and medical research opportunities. The rising cost of medical expenses requires families to be creative and at the same time prudent about viable options.
Interested in learning how Dawn might be a resource, speaker, or strategist for your special needs endeavors? Click here to book her as a speaker or to provide coaching/strategic planning services TODAY!