Consulting & Strategic Planning
If you are thinking about working directly with me, consider the possibilities below. I provide consulting services and strategic planning. Why do you need a leadership strategist? Here are some considerations in the guide and video included in the image below.

Getting Started
Check out the video below to learn about how others have worked with me.
Review the buttons below to determine specific support required for a new leader, mid-level leader or seasoned leader.
Download a complimentary Work With Me Guide.
Complete the Consulting/Coaching Form to get started.
Ready to Go?
Sessions aim to help you get and stay focused on your personal or professional goals. A 30-minute consultation is provided at no charge for either strategic planning or consulting services.
Options for strategic planning sessions are scheduled as support for 1, 3, or 6 session packages. Consulting sessions can be either individual or group/organizational support.
Consulting with Dawn, the Leadership Guru
Flourish Leadership Group offers customized action planning through consulting services as follows:
Organizational Planning
Does your organization want to have a greater impact?
Looking for ways to position yourself, your company or your organization?
Project Management
Ready to create and better manage projects?
Need help getting your arms around competing priorities?
Ready to streamline project rollout and benchmarking?
Advocacy Training & Community Engagement Strategies
Do you want to be a more effective advocate for your cause or purpose?
Strategic Planning with Dawn, Personal & Business Development
Looking for unique strategic planning services and custom-designed action plans? Look no further since you've found the right place to bring forth your next community-based, personal, or business project!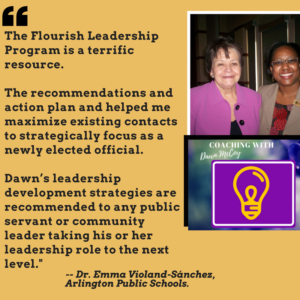 Personal Development
Want to fine-tune your strategic planning?
Interested in expanding your networks and awareness campaigns?
Looking for better resource allocation?
Business Development
Develop content creation for blogs, articles, e-newsletters, and websites
Design PowerPoint presentations, event remarks, and speeches
Write business reports, grant proposals, and much more!
Questions?
Call Scheduling/Cancellation Policies. All sessions are based on Eastern Standard Time. All scheduled sessions must be used within 90 days of the initial scheduling date. You are welcome to reschedule sessions once for any reason. You may convert the payment into a credit which can be used towards other services provided by Flourish Leadership Group, LLC.
Payment policy. Payment for services is due prior to the start of sessions via the above payment portal. If you have any questions, please contact me at admin@flourishleadership.com.