Consulting Services
Enlisting an experienced consultant will support your team and help you to ensure successful implementation with your endeavors. Having served in numerous consultancies for nearly three decades, I'm here to help your company, organization, or team to thrive.
Consulting services at Flourish Leadership Group aim to assist you with confirming that your plans are on the right track. As a certified leadership practitioner, I review the scope of your inquiry and recommend a course of action to ensure measurable progress and accountability.
Review the consulting service areas listed below and consider what fits for you and your inquiry.

Consider if the support you are requesting may be best achieved through a 60-minute call or more. From your session, you will receive a customized action planning. 
Organizational Planning
Does your organization want to have a greater impact?

Looking for ways to position yourself, your company, or your organization?
Project Management
Ready to create and better manage projects?

Need help getting your arms around competing priorities?

Ready to streamline project rollout and benchmarking?
Advocacy Training & Community Engagement Strategies
Do you want to be a more effective advocate for your cause or purpose?
Complete the Planning Questionnaire
Complete the Consulting/Strategic Planning Questionnaire to get started.

We will schedule a mutually convenient time to have a video conference call. 
Consider one of the consulting services packages below.
Consulting services sessions are scheduled for 1, 5, or 10 session packages.

Consulting sessions can be either individual or group/organizational support.

Each month there are consulting appointment options.
One (1) 60-Minute Session for $97
Five (5) 60-Minute Sessions for $497 + 1 BONUS Session
Ten (10) 60-Minute Sessions for $997 + 1 BONUS Session
Click on the purple "Send Voice Message" tab at the right to forward a voice message to me or if you have any questions before you schedule your consulting session.
Testimonials
Throughout the years, I've supported several projects and some including individual and organizational endeavors. Here are some testimonials.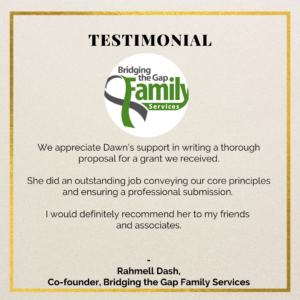 Call Scheduling/Cancellation Policies. All sessions are based on Eastern Standard Time. All scheduled sessions must be used within 90 days of the initial scheduling date. You are welcome to reschedule sessions once for any reason. You may convert the payment into a credit that can be used towards other services provided by Flourish Leadership Group, LLC.
Payment policy. Payment for services is due prior to the start of sessions via the above links. If you have any questions, please contact me at flourishleadership@gmail.com.
About Dawn McCoy –  Speaker | Author | Strategist |Consultant
Dawn McCoy is a speaker, author, leadership strategist, and founder of Flourish Leadership Group, a leadership development, and communications firm. She provides strategic services and professional development for individuals along with public sector and commercial clients.
Dawn is an award-winning community advocate appointed to several boards. As a guest columnist, she has been featured on several platforms over the last twenty years. With a bachelor's degree in Psychology from Howard University, a master's degree in public policy (MPP) from Georgetown University, and leadership certification from the Connective Leadership Institute, Dawn is a champion for better leadership through personal and professional enrichment.  Read Dawn's Complete Bio |

Work with Me, Follow Me, and/or You Have Questions?
Do you need a consultant or leadership strategist? If so, click below for details or explore more via Work with Me or contact Dawn McCoy via Email.
Follow Dawn: Twitter | Facebook | YouTube | Instagram | Strategic Planning | Consulting | Speaker/Facilitator