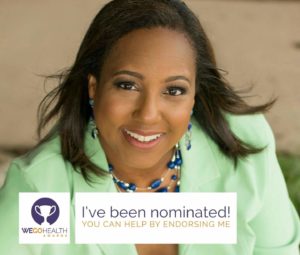 In recent weeks, I was honored to be nominated for the 2018 WEGO Health Patient Leader Hero Award. It's an honor to serve as an advocate for those with rare diseases.
I do not consider my role work, but rather service, since it is done from my heart. These endeavors make me shine and honestly it's where I find my most creative leadership.
I'm humbled to receive this nomination and appreciate those who support me on this path. For me, it is a personal quest to help mitigate confusion with medical diagnoses, treatment plans, dealing with health insurance, multiple health providers, and advocating for change. It's not overwhelming because I'm not alone.
In turn, I write about disease management and ways to support families in need. That's because I have personal experience serving in a caregiver role and I know it requires self-care, balance, and daily renewal.  For highlights, please check out highlights of my contributions in this brief one-minute video.
If you know of a caregiver or patient advocate who needs support, stay informed about a forthcoming resource for Special Needs Caregivers. To get the latest updates, click here to get on the mailing list for my quarterly e-newsletter Leadership Today™.