There are some people who I have a very high regard for and these include those living with rare diseases. They have earned the title of hero and courageous without even trying. It's just because.
With almost 7,000 rare diseases, there are more than 30 million Americans living with a rare condition. That is an average of almost one in every 10 people. Did you know that more than two-thirds are children?
Rare Disease Day is the one day a year the world comes together to recognize and improve the lives of people living with rare diseases. Here are some ways to support Rare Disease Day 2018 on February 28.
The National Organization for Rare Diseases (NORD) is the official U.S. sponsor working with hundreds of international and domestic nonprofits serving families and raising awareness about rare diseases. From my experiences at Rare Disease Day 2017, check out this video.
http://bit.ly/LRMichaelScott

From the gathering that made the evening news, I share some highlights from the community forum to the signing of the proclamation with Governor Terry McAuliffe.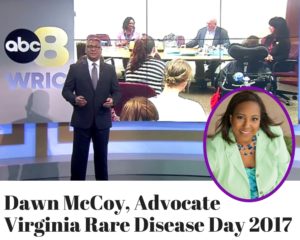 People living with rare diseases experience lifelong and chronic medical problems and symptoms. Many feel isolated and alone in the struggle to get diagnosis, treatment, and support for their conditions.  So, what are some ways you can be a leader in your community and help and raise awareness?
Go to the Rare Disease Day website and support the cause by sharing posts via social media.
Share the official Rare Disease Day video with friends, family, and others. It's been translated into 34 languages!
Download vital materials from the website to share.
Add #1in10 and #ShareYourRare in your social media posts to spark discussion and awareness.
Get involved. Tell your story, if applicable for you or a loved one.
Finally, if you are interested in gathering essential steps for civic engagement, then grab your copy of the Effective Community Engagement CD where I guide you through the process to map out next steps and develop the best strategies.