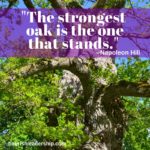 Despite adversity, resilience is what has worked for many who thrive. Author Napoleon Hill cited that "the strongest oak is the one that stands." So, when life's challenges happen how will you remain resilient?
As leaders, we must remain committed to ourselves and those we serve. To do that requires that we are determined and focused even when the unexpected happens. Here are a few ways that you might consider how you can reinforce your resilience:
Bounce back – Despite the odds, be intentional that you will bounce back. What is your plan?
Overcome despite setbacks – When life and adversity happens, what will you implement?
Thrive despite adversity – How will you withstand the storms when they happen?
Feel the fear and keep going – How can you keep going? Inches at a time. Minutes or seconds if you must. Hold on during that corporate downsizing. Be strong when you are overlooked for that promotion. Stay encouraged when you start a new leadership position.
Learn from mistakes – Resilience means that we learn from our mistakes. We dust ourselves off and we keep moving. What will you do to learn from missteps?
As a leader, here are some questions to ask yourself:
What are you willing to do to maintain resilience in your leadership role?
What investments and training will you make to ensure that you are ready?
How will you chart your tasks and progress?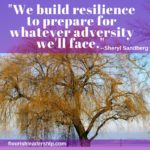 To assist you with your journey, here are complimentary accountability worksheets to support you as you chart your next steps. What's going to be your first and next steps?