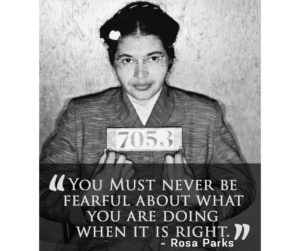 Sheroes like Rosa Parks sat down and set the standard for authentic, servant leadership. She stood for justice and represents those who might have intentional charts their journey but rather evolve into their leading roles.
Just thinking back…it was December 1, 1955. She was a seamstress and she rode the bus. Her role was already focused on being of service to others. So, her action with the refusal to give up her seat on the bus was powerful. 
Through her quiet leading role, she became an unconventional activist. History remembers her as a civil rights icon, someone committed to social change. From her impact, she affected her neighborhood, the community, and had a global impact that rippled around the world.
We all have the opportunity to share and do more through our actions. So, what is your leadership legacy?
Note: I do not own the rights of this image.