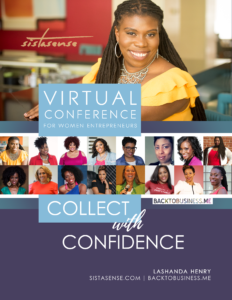 Later this month, there will be a remarkable event! This year's eighth annual Back to Business Virtual Conference will be held October 26 – 27, 2018. The conference is for female entrepreneurs and career professionals and the agenda focuses on tapping into your greatness by learning how to "Collect with Confidence."
Back to Business is the ultimate virtual conference for those in need of real talk, business training, business acumen, and mentorship about marketing and sales. The success as the leader of your business truly depends on getting vital training like this to thrive!
This is going to be an epic virtual event and for many women, a huge dose of motivation, inspiration, and direction! If so, join a dynamic panel of powerful and FIREY speakers at the annual Back to Business Virtual Conference 2018 for women entrepreneurs. YES, I WANT TO REGISTER!