When Women Connect Networking Toolkit
---
Network with more confidence. The When Women Connect Networking Toolkit is the ultimate resource to help you to overcome networking challenges and find solutions. Here are some considerations if you have experienced the following: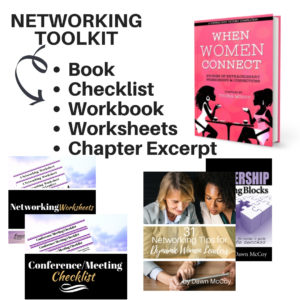 Do you ever feel uncertain about how to become more effective with networking?

Are you unclear about how to manage contacts made at social events or lose focus on what comes next?

Do wonder how to more effectively leverage social media and the information superhighway to communicate with others?
---
When Women Connect: Extraordinary Stories of Sisterhood and Solid Advice for Making Connections is a compilation of stories and messages for women about women. It is a collection about how women connect with each other on a deeper level. It's about women sharing what works, lessons learned, and how to overcome challenges in their lives.
Part 1 – Extraordinary Stories of Sisterhood
Part 2 – How To Make Meaningful Connections
In Part Two, I share more about fundamentals for networking and how women can implement practical and simple networking strategies for home, community, and workplace. Women can make authentic connections through networking and sharing ideas. Click
here
to learn more about the co-authors. 
Watch a 30-second clip about networking essentials. click here
Excerpt from Chapter 9 – Networking

About Dawn McCoy –  Speaker | Author | Strategist |Consultant
Dawn McCoy is a speaker, author, leadership strategist and founder of Flourish Leadership Group, a leadership development, and communications firm. She provides strategic services and professional development for individuals along with public sector and commercial clients.
Dawn is an award-winning community advocate appointed to several boards. As a guest columnist, she has been featured on several platforms over the last twenty years. With a bachelor's degree in Psychology from Howard University, a master's degree in public policy (MPP) from Georgetown University, and leadership certification from the Connective Leadership Institute, Dawn is a champion for better leadership through personal and professional enrichment.  Read Dawn's Complete Bio |

Work with Me, Follow Me, and/or You Have Questions?
Do you need a consultant or leadership strategist? If so, click below for details or explore more via Work with Me or contact Dawn McCoy via Email.
Follow Dawn: Twitter | Facebook | YouTube | Instagram | Strategic Planning | Consulting | Speaker/Facilitator