Community Engagement Resources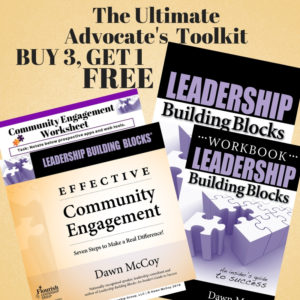 Nurturing leaders serving in community roles is vital.  There are numerous opportunities to cultivate practitioner engagement and perspectives resulting in a formidable impact.
So, there must be an ongoing discourse about how leaders become effective advocates serving others with specific plans, tactics, and implementation tools.
What people need NOW are answers to seemingly complexities questions about mobilizing people. There is no challenge but, on the contrary, specific tools to demystify the community engagement process.
Are you a community organizer expanding a project or endeavor?
Are you hoping to inspire others to greater participation?
Are you ready to get in gear?
The Ultimate Advocate's Toolkit includes 15 Effective Community Engagement Strategies designed help you achieve and prioritize your goals. Use the guide and resources below to mobilize your ideas into activism and your objectives into a success!
Yes, I Want the Ultimate Advocate's Toolkit
No, I Only Want the Effective Community Engagement CD
No, I Only Want the Community Engagement Worksheets (FREE)
About Dawn McCoy –  Speaker | Author | Strategist |Consultant
Dawn McCoy is a speaker, author, leadership strategist, and founder of Flourish Leadership Group, a leadership development, and communications firm. She provides strategic services and professional development for individuals along with public sector and commercial clients.
Dawn is an award-winning community advocate appointed to several boards. As a guest columnist, she has been featured on several platforms over the last twenty years. With a bachelor's degree in Psychology from Howard University, a master's degree in public policy (MPP) from Georgetown University, and leadership certification from the Connective Leadership Institute, Dawn is a champion for better leadership through personal and professional enrichment.  Read Dawn's Complete Bio |

Work with Me, Follow Me, and/or You Have Questions?
Do you need a consultant or leadership strategist? If so, click below for details or explore more via Work with Me or contact Dawn McCoy via Email.
Follow Dawn: Twitter | Facebook | YouTube | Instagram | Strategic Planning | Consulting | Speaker/Facilitator