Community Engagement Resources
Nurturing effective leaders who serve in community roles is vital.  There are numerous opportunities to cultivate practitioner engagement and perspectives resulting in a formidable impact. Thus, there must be an ongoing discourse about how leaders become effective advocates serving others with specific plans, tactics, and implementation tools.
After serving as an elected public servant, a non-profit leader, and as a community executive, I knew that people needed simple answers to complexities with getting people mobilized. It can be perceived as a challenge, but it does not have to be. So, I outlined specific ways to help others with tools to demystify the community engagement process. If you're ready to access other tools vital for community leaders, here are some other recommended resources:
Examples of community leadership
An audiobook with community engagement strategies
Worksheets with step-by-step recommendations for action
An Advocate's Toolkit that includes Leadership Building Blocks: An Insider's Guide to Success and Workbook and Effective Community Engagement Audiobook
a workbook for leadership development (Target release date: March 31, 2019)
A compilation of community engagement strategies from a 15-year compilation of my relevant blogs
Steps for Effective Community Engagement
Are you a community organizer expanding a project or endeavor? Are you hoping to inspire others to greater participation? Here are tools to help you achieve and prioritize your goals. Use the guide and resources below to mobilize your ideas into activism and your objectives into success!
The audiobook CD, worksheet, and an accompanying workbook are generic templates designed to support any endeavor. Are you ready to get in gear? Order your tools  --> click here!
Effective Community Engagement CD: Seven Steps to Make a Real Difference is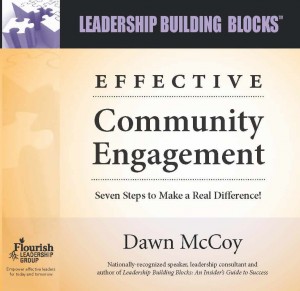 a comprehensive audiobook for thriving leaders to succeed!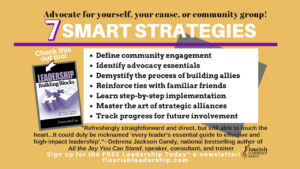 Also, consider adding to your personal toolkit these complimentary worksheets to manage, monitor and track your progress by working with your community. In this way, you will be prepared to engage and embark on new initiatives with your strategies in place.
About Dawn McCoy –  Speaker | Author | Strategist |Consultant
Dawn McCoy is a speaker, author, leadership strategist and founder of Flourish Leadership Group, a leadership development, and communications firm. She provides strategic services and professional development for individuals along with public sector and commercial clients.
Dawn is an award-winning community advocate appointed to several boards. As a guest columnist, she has been featured on several platforms over the last twenty years. With a bachelor's degree in Psychology from Howard University, a master's degree in public policy (MPP) from Georgetown University, and leadership certification from the Connective Leadership Institute, Dawn is a champion for better leadership through personal and professional enrichment.  Read Dawn's Complete Bio |

Work with Me, Follow Me, and/or You Have Questions?
Do you need a consultant or leadership strategist? If so, click below for details or explore more via Work with Me or contact Dawn McCoy via Email.
Follow Dawn: Twitter | Facebook | YouTube | Instagram | Strategic Planning | Consulting | Speaker/Facilitator