Leadership Resources
Please find below resources for leaders. You will find a variety of the following to assist you with your journey including:
Free resources
Online resources
Download worksheets
Holiday packages (seasonal)
Referral resources
Flourish Leadership Group paid resource and consulting services
…and much more!!
Free Resources
Check out these AMAZING freebies and budget-friendly opportunities to sharpen your skills!
Referral Resources
Health
Heal Your Body by Louise Hay
Girl, Get Your Money Straight! By Glinda Bridgforth
This Time I Dance by Tama Kieves
All the Joy I Can Stand by Debrena Jackson Gandy
Women Who Do Too Much by Patricia Sprinkle
6 Ways Leaders Find Balance by Dawn McCoy
Leadership
The Success Principles by Jack Canfield
Leadership Building Blocks Book and Workbook Set by Dawn McCoy
*This section includes affiliate links.

What Readers Are Saying…

Dawn has captured her own wide range of leadership experiences into a concise, well-organized book which transfers her experiences into valuable lessons for others in leadership roles.  As she did during her Leadership California involvement, she has shared her natural leadership skills in this book.
– Pamela Hemann, CAE


"Refreshingly straightforward and direct, but still able to touch the heart, Dawn has written what I consider to be a leaders handbook that should be required reading."
– Debrena Jackson Gandy, national best-selling author, Sacred Pampering Principles and All the Joy You Can Stand

"Leadership Building Blocks – the simple answer to the complex world of being a leader. Highly recommended!" 
– Dr. Anita Heiss, academic and author, Australia
Consulting Services
Interested in services? Be sure to check out and grab a copy of 5 Essentials Before Hiring a Coach.  Download this Flourish Leadership Leadership Development Checklist to ensure you are on the right path for your leadership journey.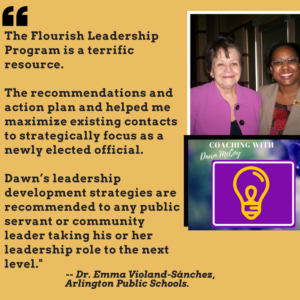 About Dawn McCoy –  Speaker | Author | Strategist |Consultant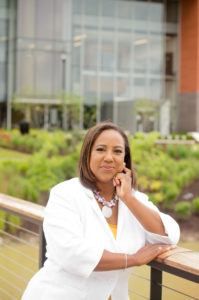 Dawn McCoy is a speaker, author, leadership strategist and founder of Flourish Leadership Group, a leadership development, and communications firm. She provides strategic services and professional development for individuals along with public sector and commercial clients.
Dawn is an award-winning community advocate appointed to several boards. As a guest columnist, she has been featured on several platforms over the last twenty years. With a bachelor's degree in Psychology from Howard University, a master's degree in public policy (MPP) from Georgetown University, and leadership certification from the Connective Leadership Institute, Dawn is a champion for better leadership through personal and professional enrichment.  Read Dawn's Complete Bio |

Work with Me, Follow Me, and/or You Have Questions?
Do you need a coach, consultant, or leadership strategist? If so, click below for details or explore more via Work with Me or contact Dawn McCoy via Email.
Follow Dawn: Twitter | Facebook | YouTube | Instagram | Coaching | Consulting | Speaker/Facilitator