What's New at Flourish Leadership Group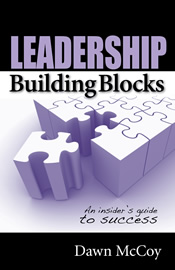 Leadership Building Blocks: An Insider's Guide to Success
by Dawn McCoy

Want to be an extraordinary leader? Lead with courage and integrity – and make it work for you! A former elected official and community leader offers timeless Leadership Building Blocks as strategies essential for today's leaders. This book will challenge and inspire you to be bold, dynamic, and resilient and shows you how to leave a remarkable legacy in any leadership role.
Click here to order your copy!
Meet Dawn McCoy
The Honorable Dawn McCoy, MPP (retired) is a nationally-recognized speaker and author with numerous published leadership development articles. She has spoken to and trained hundreds of leaders nationwide. Ms. McCoy is the founder of Flourish Leadership Group, LLC. Annually she speaks to corporate, government, and academic audiences.