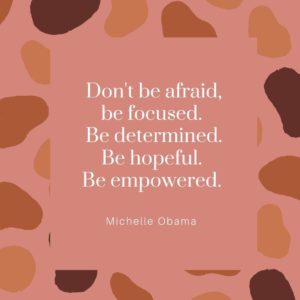 An amazing leader who has made a huge impact is Michelle Obama. This powerful woman has done so many amazing things.
People of all ages and colors look up to her. So many people look up to Michelle Obama because she was the first black first lady in the United States. Michelle Obama for many years has promoted physical and mental health and has changed many lives because of it. 
She is very inspirational and passionate about what she does and she is a great advocate for women all around the world. 
I admire Michelle Obama greatly for the simple fact that no matter the circumstances she tries her best and has done her part. 
One of my favorite things about Michelle Obama is that she made a documentary, Becoming, which was featured on Netflix. Her appearance in that film gave me an entirely different view of her life and who she is.
By Guest Blogger Layla Bryson, Summer Intern