When Women Connect
---
When Women Connect: Extraordinary Stories of Sisterhood and Solid Advice for Making Connections is a compilation of stories and messages for women about women. It is a collection about how women connect with each other on a deeper level. It's about women sharing what works, lessons learned, and how to overcome challenges in their lives.
Part 1 – Extraordinary Stories of Sisterhood
Part 2 – How To Make Meaningful Connections
In Part Two, I share more about fundamentals for networking and how women can implement practical and simple networking strategies for home, community, and workplace. Women can make authentic connections through networking and sharing ideas. Here's a short video with highlights.
Click here to learn more about the co-authors. 
Watch a 30-second clip about networking essentials. click here
Excerpt from Chapter 9 – Networking

---
Get your paperback and customized toolkit for $14.99. (U.S. shipping included). Additional eBook versions forthcoming via Amazon, BN, Kobo, a
nd iBook.
Yes, I Want This Book!
To demystify the networking process, I wrote 31 Networking Tips for Dynamic Women Leaders, a workbook to complement the narrative from my contributing chapter. It can serve as a stand-alone tool or be used with the toolkit below.



Get your completeNetworking Toolkit, a comprehensive package of resources for women at the helm, business leaders, and regular networking professionals that includes: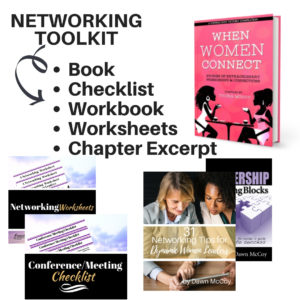 one (1) copy of When Women Connect
Conference/Meeting Networking Checklist
Networking Tips for Women Workbook
Networking Worksheets (6-part template)
Managing Your Network (Chapter excerpt from Leadership Building Blocks: An Insider's Guide to Success)