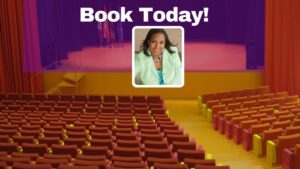 Keynote Speaker ǀ Seminars and Webinars ǀ Workshops ǀ Discussion Panels
Is your group, organization, or company is seeking a dynamic motivational speaker? Dawn's quick wit and contagious enthusiasm will inspire your audience! She is a sought-after, engaging speaker who has facilitated retreats, served as a workshop expert, and delivered remarks to large audiences.
To check Dawn's availability for your next event, please complete the Speaking Inquiry Form. Don't see a topic that fits your interest? Please let us know and she will be glad to discuss a customized presentation. For more information, contact a team member at admin@flourishleadership.com.
CLICK here to view photo albums and download Dawn's Speaker Information Sheet.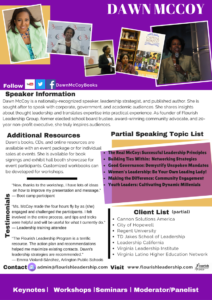 Leadership Development
The Real McCoy: Successful Leadership Principles
Building Ties Within: Effective Networking Strategies
Creating Relationships That Count
Good Governance: Demystify Rules, Requirements, and Unspoken Mandates
Remembering Public Service Leadership: What is Your Legacy?
Women's Leadership Development
How to Be Your Own Leading Lady!
Seven Tips for Revving Your Leadership Position
Managing the Juggle Struggle and Finding Balance
Youth Leadership Organizations
Youth Leaders: Cultivating Dynamic and Talented Youth
College Leadership Strategies: How To Be Out in Front
Public Service Careers 101
Community Organizing
Necessary Action Planning to Success!
Five Effective Grassroots Organizing Tips
Managing Community Engagement on a Floss Budget
Making the Difference: Community Engagement Tips
What Workshop Attendees Said …
"I can't seem to organize my message in such a way that others understand how communities can spend less money and provide better services. Now, thanks to the workshop, I have lots of ideas on how to improve my presentation and message."
— Farm Team Community engagement boot camp workshop participant, July 2009

"Ms. McCoy made the four hours fly by as (she) engaged and challenged the participants. I felt involved in the entire process, and tips and tricks were helpful and will be useful for what I currently do."
— Tiffany G.

"The Lynchburg Boot Camp was a great success! More than 20 women turned out to learn how to breathe deeply and do raspberries in preparation for giving a speech. Thanks to Dawn McCoy who gave us great tips for running a campaign and finding overlapping circles in our lives that will help us support a campaign effort."
— Shannon B.