Is your group, organization, or company is seeking a dynamic motivational speaker? Dawn's quick wit and contagious enthusiasm will inspire your audience! To check Dawn's availability, complete the Speaking Inquiry Form. Don't see a topic that fits your interest? She will gladly discuss and explore a customized presentation. Contact a team member at admin@flourishleadership.com.
About Dawn
Dawn McCoy is an award-winning community advocate, speaker, author, and leadership strategist.  Individuals and groups have been delighted by her heartfelt and passionate remarks about personal enrichment and leadership excellence. She inspires audiences to cultivate strategies to shift toward fearlessly leading.
Dawn is the founder of Flourish Leadership Group, former elected school board trustee, and 20-year non-profit executive, she provides leadership strategies for public sector and corporate clients. She holds a bachelor's degree in Psychology from Howard University and a master's degree in public policy from Georgetown University where she was a Bryce Harlow Scholar. She served as district leader with Toastmaster International, is also a certified leadership practitioner with the Connective Leadership Institute, and has a small, woman and minority-owned business certification.
Speaking Engagement Remarks
Previous Speaking Engagements
Leadership Development & Communication Topics
The Real McCoy: Successful Leadership Principles
Building Ties: Effective Networking Strategies
How to Be Your Own Leading Lady!
Youth Leaders: Cultivating Dynamic and Talented Youth
Making the Difference: Community Engagement Tips
Click here to view photo albums and download Dawn's Speaker Information Sheet.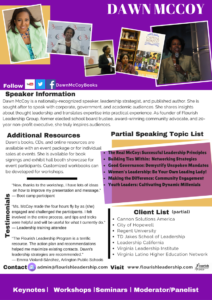 Photos
Below are photos from Dawn's speaking engagements followed by photos.
Testimonials
"I can't seem to organize my message in such a way that others understand how communities can spend less money and provide better services. Now, thanks to the workshop, I have lots of ideas on how to improve my presentation and message." — Farm Team Community engagement boot camp workshop participant, July 2009
"Ms. McCoy made the four hours fly by as (she) engaged and challenged the participants. I felt involved in the entire process, and tips and tricks were helpful and will be useful for what I currently do."
— Tiffany G.
"The Lynchburg Boot Camp was a great success! More than 20 women turned out to learn how to breathe deeply and do raspberries in preparation for giving a speech. Thanks to Dawn McCoy who gave us great tips for running a campaign and finding overlapping circles in our lives that will help us support a campaign effort." — Shannon B.